Good morning readers!
Just a quick blog note this morning,i was over @
lifeislikechampagneblog
,I do like visiting there!Anyway she has a contest ending today from
etsy-autumn slings
.Autumn Slings are made to be used for 5 different positions depending on the babies weight and your need. Autumn Slings can hold up to 35 pounds and are much more versatile than the commercial slings. Instead of me carrying my Buagboo Girl on my hip with my arm wrapped around her, the sling can prop her up and support her weight, much easier on my arms and back. A detailed brochure on how to use the sling along with the different positions is sent to you along with care instructions. I love the detailed stitching and the choice of coordinating fabrics. Autumn Slings make a wonderful gift for a new mom or a mom that just needs an extra hand!
WIN IT!!
Autumn Slings has offered up the Sling shown to the left for one lucky winner! Se rules on site at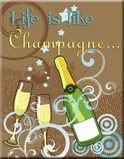 ++++++++++++enter now!!!contest ends tonight!Look at this sling below before you go..Wow! if you have been considering buying a sling.go check out
autumn slings
,you'll be glad you did! Thanks going out to
lifeislikechampagneblog
for introducing us to them!
-----------------------------------------------
================================================