HAPPY SUNDAY EVERYONE!!!!
Hope you are having a blessed one.The boys are with their mom for a few more hours so i thought i'd go ahead and start contest's blog early..It is such a beautiful day here in south alabama..Last night had the touch of coolness,perfect for raised windows! ;) Me and hubby went down to Florala today and went by the strawberry farms and picked 5 lbs of berries for the family to enjoy!They are wonderful..so sweet..Any ne in this area should surely drive over and get you some.At only 1.35 a lb. still very affordable.Next trip i will take the camera and get pics to share.They also have onions ready and tomatoes on the way.Just a fe wiles over the florida line in alabama...need directions? let me know!
Well no babies yet but each day we expect..lol....Julie says it is timeeeee..lol...
Hope you all have a wonderful day and make sure you tell the kids each day how much you love them...
contest below!!!!!!!!!!!!!!!!!!!!!!!!!
Betty ~Simply Southern
~~~~~~~~~~~~~~~~~~~~~~~~~~~~~~~~~~~~~~~~~~~~~~~~~~~~~~~~~~~~~~~~~~~~~~~~~~~~~
WIN THIS BEAUTIFUL QUILT!!!
~~~~~~~~~~~~~~~~~~~~~~~~~~~~~~~~~~~~~~~~~~~~~~~~~~~~~~~~~~~~~~~~~~~~~~~~~~~
Tweedlebeebytone! win a quilt-see her creations!
Someone will be the owner of this lovely baby quilt when this contest is done! Just leave me a comment on this blog post, on May 31st, my 27th anniversary, I will draw one of the names out of a "hat" and send this Blue Garden quilt away to the Winner! Have fun, tell your expecting mom-to-be friends and have them tell their friends!
click to enter now..
~~~~~~~~~~~~~~~~~~~~~~~~~~~~~~~~~~~~~~~~~~~~~~~~~~~~~~~~~~~~~~~~~~~~~~~~~~~~~~~~~~~
5 MINUTES FOR MOM -----HUGE GIVEAWAY!!!!!!!!!!!!
~~~~~~~~~~~~~~~~~~~~~~~~~~~~~~~~~~~~~~~~~~~~~~~~~~~~~~~~~~~~~~~~~~~~~~~~~~~~~~~~~~~~~
5 minutes for mom giveaway!!!!
((((((((((((( CONTEST IS OVER AT 5 MINUTES FOR MOM--NOT HERE,,,,,,THIS IS INFO TOOK FROM SITE,,,))))))))))))))))))))))
For the next two weeks, we will be going toy crazy here at 5 Minutes for Mom. We will be featuring an assortment of toys for a variety of ages. We will have toys for babies, preschoolers and grade school kids. For the next fourteen days, the rule is FUN!
To enter the giveaways you just need to:
Add a comment on the giveaway you want to enter. PLEASE note: You need to enter each giveaway individually so we know who wants to be entered in what giveaway. So make sure you click over to each giveaway and leave your comment there.
Either link back to this post and include a "2 Weeks for Toys" Giveaway button in that post or on your sidebar (to get the code scroll to the bottom of this post,) or link to the individual giveaways you choose to enter. (If you post and include the button, either in your post or on your sidebar, and link back here, you are good for all the giveaways. No more linking required.)
As always, non bloggers are welcome to participate! We understand you can't link - but please spread the word to your friends.
Some giveaways may be open to Canadian shipping addresses. Please check individual giveaways.
Click on each of the links below and comment on the giveaways you wish to enter: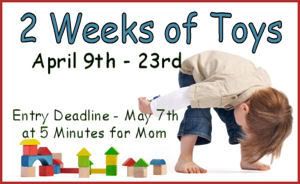 For our first giveaway, we are starting off with a huge giveaway from Playskool. We are giving away THREE Rose Petal Cottages, THREE Kid Motion Easy Dunk Basketballs, and TWO Made For Me Day To Dream Soothers.
For our second giveaway, we are celebrating LEGO® CITY by giving away a LEGO® CITY Police Headquarters.
Our third giveaway is for a bébéPOD® PLUS baby seat. Comfy, fun and oh so handy - this is an essential piece of Olivia's baby gear. This contest is open to both Canadian and US shipping addresses.
Our fourth giveaway is for the fun, new, creation from Hasbro - Martian Matter. Kids can mold aliens and then play with them in the spaceship. Jackson loves this super cool toy.
In our fifth giveaway, your baby will be hopping and bouncing when they win their choice of either the ExerSaucer® 1-2-3 Tea for Me™ Active Learning Center™ or the ExerSaucer® Mega Farm™ Active Learning Center™.
The sixth giveaway, will have 30 winners! We're giving away thirty Nerf N-Strike Recon CS-6 Blasters! Do your kids want to burn off some energy? Enter to win one of these Nerf Blasters. This contest is open to both Canadian and US shipping addresses.
Our seventh giveaway will also have a ton of winners… 46 to be exact. We have one Easy Bake Oven to giveaway and FORTY FIVE Mix and Measure kits for 45 runner ups. (In honor of Easy Bake's 45th anniversary.) This contest is open to both Canadian and US shipping addresses
The eighth giveaway in this event is for a Step 2 Canopy Wagon. You'll love towing your tot in this sun-smart wagon. This contest is open to both Canadian and US shipping addresses
The ninth giveaway is again from Step 2. The prize is a choice of a River Run Waterpark with Umbrella or a Sand and Water Cart or a Fun Flow Play Sink.
This contest is open to both Canadian and US shipping addresses
Our tenth giveaway is for an award winning ride-on-toy called the Wheely Bug®. The winner can choose their style and size of Wheely Bug®. This contest is open to both Canadian and US shipping addresses
In our eleventh giveaway the winner will receive three adorable doll clothes outfits from Emily-Rose.
PLEASE NOTE: Entries for all giveaways will be closed Wednesday, May 7th at 5pm Eastern and winners will be announced in the afternoon of Friday, May 9th.
Make sure you check back at "5 Minutes for Mom" on Friday, May 9th to see if you won a prize.
5 minutes for mom giveaway!!!!
and while you are there!!!!!!!!!!!!
they are going to give away one Caboose Trailer Bike on Monday, May 5th. The winner will have the choice between the small or the large size.
Because we do not want to let anyone miss a single day of spring bike rides, you can go ahead and purchase a bike right now, and if you are the lucky winner on May 5th, we will simply give you a full refund.
We understand that often folks hold off purchasing an item during a giveaway waiting to see if they win it. So in this case, we're offering to give you a full refund if you have already purchased yours.......click below to enter this
5 minutes for mom~win a bile caboose!
pedalcarsandretro.com
~~~~~~~~~~~~~~~~~~~~~~~~~~~~~~~~~~~~~~~~~~~~~~~~~~~~~~~~~~~~~~~~~~~~~~~~~~~~~~
win banana prints!
~~~~~~~~~~~~~~~~~~~~~~~~~~~~~~~~~~~~~~~~~~~~~~~~~~~~~~~~~~~~~~~~~~~~~~~~~~~~~~~
jessicadoyle.com prints--enter here
About the Bananas
prints to give away--art...
They are prints of the original miniature drawings. The originals were drawn on acid free textured cream colored card stock using my favorite Pilot pens. You should go and read the comments left on Flickr for these. I'm still laughing!
I print and hand cut all my prints. They were printed with gorgeous Vivera Inks on heavy 170gm2 matte photo paper. They are crisp, clean and will last for generations to come. They will be safely placed into an acid free rigid sleeve and packaged into an unbending mailer for shipping.
An ACEO stands for Art Cards, Editions and Originals. They always measure 2.5″ by 3.5″ and can be created in any medium. They are the exact size of a hockey, Magic or baseball card. Mat them and place into your favorite 5″ by 7″ or 8″ by 10″ frame.
jessicadoyle.com prints--enter here
~~~~~~~~~~~~~~~~~~~~~~~~~~~~~~~~~~~~~~~~~~~~~~~~~~~~~~~~~~~~~~~~~~~~~~~~~~~~~~~~~~~~~
~~~~~~~~~~~~~~~~~~~~~~~~~~~~~~~~~~~~~~~~~~~~~~~~~~~~~~~~~~~~~~~~~~~~~~~~~~~~~~~~~~~~~
Come,
Fire-Drink with Me, Baby!
thespiritualeclectic.wordpress.com--win now!
Put the link in any context you want, such as:
Who needs absinthe when you can fire-drink with The Spiritual Electic? Check out the story behind Come, Fire-Drink with Me, Baby!
Here's where it's a win-win for everyone, even if our randomizer doesn't pick you link as the winner. We will give a link back to everyone who enters at the bottom of this post. If you sell items or services online, this is a great way to advertise to a tightly targeted market! Just leave a comment with a link to the page where your link is located. Let us know what page you would like us to link to and what anchor text (if any) you want us to use, such as Amazing Tarot Services or Willow Sue's Healing Journal.
Giveaway Time! Let's Celebrate Taurus
As the Sun moves into Taurus 20 April, it's time to celebrate with a give-a-way. Why? Well, because CELEBRATE EVERYTHING is my personal theme for this year and if you look, it's not hard to find good things in life.
The prize is a pretty orange and blue Balance-and-Expression necklace by a local artist, as seen in the pic above. (White onyx pyramid and 19th-century rare book not included!) According to the artist, the stones are carnelian (orange) and sodalite (blue), both of which are excellent for achieving emotional balance as well as creativity and self-expression.
thespiritualeclectic.wordpress.com--win now!
~~~~~~~~~~~~~~~~~~~~~~~~~~~~~~~~~~~~~~~~~~~~~~~~~~~~~~~~~~~~~~~~~~~~~~~~~~~~~~
Book Giveaway: "Firefighters to the Rescue
~~~~~~~~~~~~~~~~~~~~~~~~~~~~~~~~~~~~~~~~~~~~~~~~~~~~~~~~~~~~~~~~~~~~~~~~~~~~~~~
christian stay at home moms!!! csahm.com--
(((((((((((below copied from site!!!leave a comment to enter there ))))))))))))00
Book Giveaway: "Firefighters to the Rescue"
Be sure to stay updated on our latest giveaways and contest and subscribe to our RSS Feed or by Email. Thanks for visiting!
Firefighters to the Rescue is such a fun book with wonderful pictures. My kids absolutely adore this book, and it's not just because their daddy is a firefighter ;), but because it is easy to follow along, and lets be honest what kid doesn't love learning about the life of a firefighter!
This week we are actually giving away one of these books to one lucky winner. To win all you need to do is the following:
1. Make a post on your blog and link to this contest so others can join on the fun!
2. Post a comment here with a link back to your post about the contest, and you are entered!
That's all you need to do!
Contest will end Friday April 25, 2008 at 11:59 pm EST! So hurry and get your comments in!
Be sure to check back in a couple of weeks for another giveaway, we plan to have a lot more of them around here!!
christian stay at home moms!!! csahm.com-click now-
==================================================================================
literaryillusions.com!!!!!!!!!!!!!!!!!!!!!!
================================================================================
literary illusions!!win a Nintendo DS Lite Game Systems
Literary Illusions Summer Breeze Contest: Win a Red Nintendo DS Lite with Games
Literary Illusions is offering one of their best contests to date. This is for one of those slim, new Nintendo DS Lite Game Systems. You receive the game system and two games. They have a copy of Horse Life and a copy of Brain Age 2. You will have two months to enter the contest and because this contest is special, the requirements for entry are a little different than previous contests. Additionally, the winner of this contest will be emailed. Please leave a valid email address. IF YOU DO NOT YOU WILL FORFEIT YOUR PRIZE AND THEY WILL PICK ANOTHER WINNER.
One Grand Prize Winner gets it all!
One Second Place winner will win a copy of the Nintendo DS Game, Horse Life.
Included:
-Nintendo DS Lite System
-Nintendo DS Lite Charger
-Nintendo DS Lite Manual
-Nintendo DS Lite Stylus Pen
-Nintendo DS Game: Brain Age 2
-Nintendo DS Game: Horse Life
literary illusions!!win a Nintendo DS Lite Game Systems
literaryillusions!click here now!!!!

check out li-kids!!!click here
========================================================================
Thymes Sweetleaf Baby Collection Giveaway **
======================================================================
was just over at
mommy bits
and they have a sweet contest going on...
a favorite among celeb moms such as Courteney Cox and Mariska Hargitay, Thymes Sweetleaf Baby is the perfect present for any new or expecting mom.
Want to try a couple of their products for FREE? I've got a 2.0 fl oz bottle of their Baby Lotion and of their Baby Wash & Shampoo to giveaway. Just leave a comment with your email address by Noon on Saturday, April 26. I'll randomly draw the winner's name out of a hat (OK, probably a bowl) and announce them here later that day.
mommy bits
================================================================================
================================================================================
the stylish nest.com
Win a stylish apron at The
the stylish nest.com
courtesy of Flirty Aprons. Just commenting on her post is'nt going to help you win. You'll have to work for this for pretty apron by spreading the word about this contest in your own blog a linking to Flirty Aprons by April 22nd.
Their aprons are so cute and fun, it's going to be tough for the winner to choose just one! Would you like a chance to win? Here is what you need to do:
Link to the website
FlirtyAprons.com
in a blog post. Also include a link to this post (this is how I will count your entry, so be sure you do this step).
This giveaway is open all countries.
Entries will be taken until Tuesday April 22st at midnight MST.
Winner will be chosen by random number generator and contacted by email on the day after the contest ends.
Good luck!
*Just to clarify, you have to follow the instructions to be entered into this giveaway. By request of Flirty Aprons, you have to link to their site in a blog post to be entered (and do a link to this post so I can count your entry).
now head over there to read more and enter!
FlirtyAprons.com--go there and check em out!
================================================================================
win a pair of LEO's
=================================================================================
THESE ARE JUST SOOOOOOO CUTE..I WOULD LOVE TO WIN MY KOLBY OR BILLY A PAIR OF THESE!
wanna win a pair of leo's??click here now!
You need shoes? Of course you do! Or at least your kid does! So, as I happen to have a children's shoe store (Vincent Shoe Store), it is time for a new give away. You can win a pair of LEO's. The same version Gwyneth Paltrow's son Moses was spotted with, only LEO is the newest model. Leo is an all leather shoe with extra rubber sole to protect the leather extra from such activities as soccer play, driving a bobby car etc.
christinamolin.wordpress.com
==================================================================================
==================================================================================