I have been experimenting on solar ovens,not the sometimes expensive panels you buy in the store.I knew there had to be a way to make them yourself out of something ordinary,maybe something laying around the house or closeby.
There are a lot of good ideas out there so i am going to include some of these.Some are so easy my 5 year old grandson Billy can help with it.Now you may think ''why would i want to go to the aggravation of making something i have to leave in the yard and wait a few hours for it to get done''?
Here is why!Here in the deep south most of our down time from electricity is from hurricanes,tornado's etc.So is a lot of other areas.In the north would be snow storms and ice,much like what they are having now.If something happens and your electricity and/or gas is disruppted then you are out of ideas.You are still going to get hungry and the kids want to be fed.So on this scenerio would be really cool,if not logical,to know how to do it.GRANTED YOU WOULD NEED SUN ,but typically after the storm,there is sunshine,if only a few hours of it..That's all you'd need.
So that that idea you now find possibly silly or unneeded for a person such as yourself,Now makes you a very wise and prepared person indeed.Chances are everyone will be watching to see how you are getting by without the modern neccessities!Perhaps you were smart and prepared ahead of time..Yes,and what if something even worse happens?what if power were down for an extended time?
A lot of very smart people in high places are saying that there is a very high possibility that just this scenerio will happen in the very near future.An economic collapse.The people in the depression area did not plan for a collapse like that either.Most thought all was well and learning to live more modern.But the thing that differs from then to now is,Most people did still know how to take care of themselves without modern help.NOW THEY DON'T.TOO MANY GENERATIONS HAVE PAST THAT RELY ONLY ON OTHERS.
Worse case scenerio happens ,you at least have made a small step in helping yourself,best case,you can have fun camping and show off your newly acquired skills!
It is a win win situation for you..So come on,indulge yourself and try it!
Simply Southern~Betty R.
~~~~~~~~~~~~~~~~~~~~~~~~~~~~~~~~~~~~~~~~~~~~~~~~~~~~~~~~~~~~~~~~~~~~~~~~~~~~~~~
Panel solar cookers are the first solar cookers that are truly affordable to the world's neediest. In 1994, a volunteer group of engineers and solar cooks associated with Solar Cookers International developed and produced the first "panel" cooker, the CooKit. Elegant and deceptively simple looking, it is an affordable, effective and convenient solar cooker. It requires a dark, covered pot and one plastic bag per day or one high-temperature plastic bag per month. With a few hours of sunshine, the CooKit makes tasty meals for 5-6 people at gentle temperatures, cooking food and preserving nutrients without burning or drying out. Larger families use two or more cookers. The CooKit weighs half a kilogram, folds to the size of a big book for easy transport. CooKits are now produced independently in 25 countries from a wide variety of materials at a wholesale cost of $3-7 US. We expect that the new hand-assembled CooKits will outlast the manufactured CooKits which last for two years.
CooKits complement other cooking methods needed at night and on cloudy days. Coming about twenty years after the first efforts to replace open fires with improved cooking stoves, the CooKit uses no fuel at all. The CooKit is both user-friendly and environmentally friendly. Families can save scarce, expensive for when they cannot solar cook and when economically capable, add other, higher cost cooking improvements such as modern biomass, smoke hoods, biogas, or liquefied petroleum gas.
The CooKit folds to be about the size of a large notebook when not in use.The value of CooKits is outlined in the following manner:
Addressing fuelwood scarcities: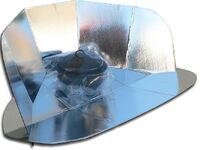 Solar cooking one meal a day, three times a week has been proven to reduce fuelwood consumption and related smoke by one third.
The CooKit saves more than four times its value in fuelwood each year. With careful use and storage, a CooKit can be used for two years, reducing fuelwood consumption by two tonnes.
Improving health:
The CooKit can pasteurize household drinking water, making it safe to drink.
The solar cooking process is smokeless, reducing respiratory diseases and eye irritation
Solar cooked foods retain vitamins, nutrients and their natural flavors; there is no smoky taste; the foods cook slowly in their own juices. Nutritious, slow-cooking traditional foods (beans, root crops, and some grains) are restored to the family diet
Clean up is easy as the food never burns or sticks to the cooking pot.
Solar cooks frequently report that the money they save on cooking fuel purchases is used to for many essentials, such as extra food, school supplies, and medical care.
Without having to gather wood or dung, breathe smoke, and tend a fire – all associated with traditional cooking – solar cooking is easy and safe for people with AIDS and other illnesses, the elderly, disabled and young orphans.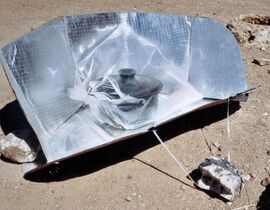 Rocks can be used to allow the CooKit to be used under windy conditions.Enhancing household and women's economic status:
The CooKit represents a new opportunity for women to capitalize on an underserved market and better meet their own cooking energy needs
Solar cooking saves time as there is less need to tend a fire or collect firewood. A person can cook while at work, at the market, or tending crops. Young girls can attend school instead of searching for fuelwood.
Solar energy is free and abundant in many areas of Kenya, providing a safe, clean, healthy supplement to traditional fuels.
Co-developers are Roger Bernard of France and Barbara Kerr of the USA, with work also by Ed Pejack, Jay Campbell, and Bev Blum of Solar Cookers International. Extensive field tests in the USA and in many developing countries confirm its performance, convenience, low cost, acceptance, and adaptability to diverse needs.
Construction plans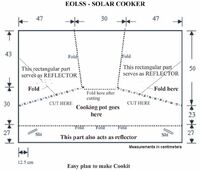 Easy plans for making a CooKit
Plans for making a CooKit exactly as Solar Cookers International manufactures them. Start with a big piece of cardboard about 1m x 1.33m (3'x 4'). Cut and fold as shown. The angles and folds shown are best, but small variations are OK.Hints: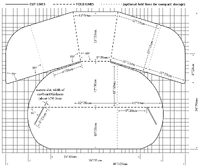 <<
>>


To make clean straight folds in cardboard, first make a crease along the line with a blunt edge such as a spoon handle, then fold against a firm straight edge.
Make the slots a little too small and narrow so that they fit snugly to hold up the front panel.
Glue aluminum foil on the side that will form the inside surfaces when the oven is set up for cooking.
To set up, lay panel flat with shiny side up. Fold up front and back parts and fit back corners into the slots in front.
You're ready to cook! Put your food into a dark-colored pot. Then place the pot inside a plastic bag (an oven cooking bag will withstand the heat best). Close the open end of the bag and place pot and bag into the center of the cooker.

You will find more detailed plans in Solar Cookers and more tips and tricks on this one by going to main source loactaed here>>>>>>
solar cooking!CLICK HERE NOW


~~~~~~~~~~~~~~~~~~~~~~~~~~~~~~~~~~~~~~~~~~~~~~~~~~~~~~~~~~~~~~~~~~~~~~~~~~~~~~~~~~
~~~~~~~~~~~~~~~~~~~~~~~~~~~~~~~~~~~~~~~~~~~~~~~~~~~~~~~~~~~~~~~~~~~~~~~~~~~~~~~~~~

Haybox Cookery --
What is a haybox? Simply an insulated box used for slow cooking. Haybox cookery saves energy. Hayboxes and solar box cookers go very well together. This tipsheet from the Centre for Alternative Technology shows you how to make one and suggests two easy recipes to start you off.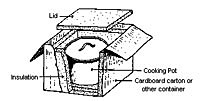 jOURNEY TO FOREVER-HAYBOX-

~~~~~~~~~~~~~~~~~~~~~~~~~~~~~~~~~~~~~~~~~~~~~~~~~~~~~~~~~~~~~~~~~~~~~~~~~~~~~~~~~~~~
~~~~~~~~~~~~~~~~~~~~~~~~~~~~~~~~~~~~~~~~~~~~~~~~~~~~~~~~~~~~~~~~~~~~~~~~~~~~~~~~~~~~

Another really cool thing i have been looking at is a tipi.Native americans lived in them year round ,of course they were built properly.But all things considered would not be a bad idea to know the basics anyway.The kids would have a blast with it in the back yard,so try on just for fun.This peticular pattern uses pvc for tubing.i personally like using wood.

Backyard or Livingroom Tipi

The whole gang will love this mini tipi that's perfect for every child's next backyard powwow.




Backyard or Livingroom Tipi

Materials:

tipi pattern (we used Terrific Teepees, available at www.sewbaby.com)
canvas
coordinating lining fabric
sewing machine
thread
heavy-duty sewing machine needle
masking tape
measuring tape
five 66-1/2" lengths of 3/4" diameter PVC pipe
drill
five 3/4" PVC end caps
five crutch tips
electrical tape (optional)
acrylic paint and textile medium (optional)

1. Follow the tipi sewing instructions provided with the pattern.

2. To make channels for the tipi poles, you will need to make a French seam. With the lining already stitched to the outside fabric layer at the top and bottom of each panel, lay two panels together, lining sides facing (figure A).

3. Mark and cut the corner, at the bottom of the channel, on a diagonal 2" from the side and 2" from the bottom (figure B).



Make this tent -from DIY NETWORK!


~~~~~~~~~~~~~~~~~~~~~~~~~~~~~~~~~~~~~~~~~~~~~~~~~~~~~~~~~~~~~~~~~~~~~~~~~~~~~~~~~~
~~~~~~~~~~~~~~~~~~~~~~~~~~~~~~~~~~~~~~~~~~~~~~~~~~~~~~~~~~~~~~~~~~~~~~~~~~~~~~~~~~

A lot of talk has been going on now about everyone needing to go green,save the enviroment and the likes.I agree.i agree because i just think it makes sence!I know we should all do what we can do to help protect our earth.If we can live cheaper and more self suffcient-i know we should do that.We need to stand on our own two feet whenever possible just like our grandparents did.I assure you a lot less headaches come from that.The energy bills are not as high,gas prices are cut,grocery bills are not so scary and life is just much less stress free.Which by itself is eneough for me to think about it.
Been looking at earth ship homes. another house building method that caught my attention is this. You make a huge pile of soil with your tractor, as big as you want. You lay rebar and pour concrete on your soil dome. You then dig out all of the soil with you tractor and pile it on top of your concrete dome. Plant your garden on top of your house. Interior temp stays stable year round!
Check out these ''earthhomes''! Some are quite basic,others big,beautiful homes.I like this.I am going to try a smaller one.Would be good for food storage and as a storm shelter if built right....The first one is a large home.
earthship home

Here are some more links!
1>> The Earthship Global Website This is the "big daddy" of Earthship websites. It is the homepage for Earthship Biotecture in Toas, New Mexico. These are the folks that have been nuturing the idea for the last 30 years. Tons of information and tons of pictures.

2>>>>>>>>
TOUCH THE HEART HOME This is Mike Shealy's llama and tirehouse website. Mike lives in an Earthship not too far from us. If you are looking for a tirehouse designer, I recommend Mike. Right now he's working on a couple of tire-bale houses, check out the drawings on his site!

3>>>>>>>> CHECK IT OUT! New Mexico. A great commentary on the building process. Has great pictures of the outside of Allen and Pat Gooch's "Nest" with interior pictures too.

4>>>>>>>>> THE HUT A hut as a starter project then the building of a Nest. Good Pictures!
THANKS GOING OUT TO EARTH POWER FOR ALL THE INFO AND LINKS!

~~~~~~~~~~~~~~~~~~~~~~~~~~~~~~~~~~~~~~~~~~~~~~~~~~~~~~~~~~~~~~~~~~~~~~~~~~~~~~~
Here is a really neat forum with all kinds of cool diy ideas!!! i like this forum...
lumenlab.com

~~~~~~~~~~~~~~~~~~~~~~~~~~~~~~~~~~~~~~~~~~~~~~~~~~~~~~~~~~~~~~~~~~~~~~~~~~~~~~~~~~
~~~~~~~~~~~~~~~~~~~~~~~~~~~~~~~~~~~~~~~~~~~~~~~~~~~~~~~~~~~~~~~~~~~~~~~~~~~~~~~~~~
another really cool diy site..lots of fun things here kids can be involved in!
junk home!
~~~~~~~~~~~~~~~~~~~~~~~~~~~~~~~~~~~~~~~~~~~~~~~~~~~~~~~~~~~~~~~~~~~~~~~~~~~~~~~~~~
~~~~~~~~~~~~~~~~~~~~~~~~~~~~~~~~~~~~~~~~~~~~~~~~~~~~~~~~~~~~~~~~~~~~~~~~~~~~~~~~~~

Till tomorrow--"think simple"
Simply Southern~Betty