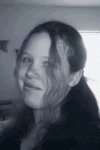 Before i go any farther..i'd like to wish SUMMER --A VERY HAPPY BIRTHDAY!guys go by and tell her happy b=day..she has such a sweet blog and a very nice person...go go wish her happiness!!!!!!!!!!!!!!!!!!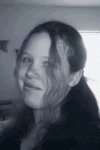 g SAY HAPPY BIRTHDAY TO summer!
Let me tell you about this stunning pieceof jewelry she is giving away!!!!
. The pendant is a solid glass rectangle, foiled inside to add amazing color. It is a bright green with a golden yellow stripe running down the center. Thin brown stripes run along each side of the yellow. The pendant hangs on a thick and strong tigertail wire cord that has been beautifully beaded. Round lampwork glass beads in various shades of green, with gold swirls and small whitish-blue specks accent set off the cord. Between each are small Czech seed beads in dark green, light green, and yellow. I wish I had a better camera because the photos do not do it justice. Trust me when I say this necklace is gorgeous!
here it is!!!
NOW GO WISH HER HAPPY BIRTHDAY AND ENTER!!!HER BDAY IS TOMORROW!
Hello all,
Winter has officially arrived in south alabama!It was 13 degrees this morning at 5 am!ooooohhhhhh.I think the high today reached 40.We still have ice covering any water all around the yard.As my grandmother used to say''It popped the tail off the Lizard's last night'' and will again tonight.I really think about the elderly alone,pets outside ,even the wildlife.We let our water drip all last night to protect the pipes.NO freezes so that was good.I really feel for the homeless more than ever this kind of weather.I pray everyone had a warm place but i am sure there was many who froze most of last night.Maybe spring is not so far away.
Anyway not much too day today but house work,watching and playing with my little guys and now online for a little.They are watching spongebob..i so hate him but they like the show.Some good time to contest surf so here you go...check em out and don't forget my contest for a custom header i have going on now..check previous post and enter!!!
~Betty~Simply Southern
+++++++++++++++++++++++++++++++++++++++++++++++++++++++++++++++++++++++++++++++++
Kim the owner of
thebabymarketplace.com - a great online spot for Baby Clothing, Shoes, Toys, Gifts and Cloth Diapers
is hosting the
January Gift Card Give-Away @ mommyknows.com
go on over and comment and be entered to Win one of two $100 Gift Cards!
~~~~~~~~~~~~~~~~~~~~~~~~~~~~~~~~~~~~~~~~~~~~~~~~~~~~~~~~~~~~~~~~~~~~~~~~~~~~~~~~~~~`
qtpies7.com
qtpies 7 twisted silver contest link!
Twisted Silver is a neat company that sells fun and funky jewelry. I am rather classical in my jewelry selections, but I managed to find a wonderful piece that fits my style. These Hip Hoop earrings in gold are darling! I actually have clear crystal beads on my set.people at Twisted Silver gave me a Tattoo Ring to give to one of my readers.
I happen to think the picture on their site does not do the ring justice, so I tried it on to take pictures for you. It sort of melts into your hand. It is a large ring, but thin enough not to be heavy or bulky at all. The ring is adjustable, so it will fit most fingers.
Here's the scoop. One of you will win this ring by leaving a comment about which piece of Twisted Silver jewelry you like from their site by January 13Th. I will announce a winner on Monday when I get back from my lovely weekend with hubby
click here to read more and enter!--->>>
qtpies 7 twisted silver contest link!
Twisted silver website
~~~~~~~~~~~~~~~~~~~~~~~~~~~~~~~~~~~~~~~~~~~~~~~~~~~~~~~~~~~~~~~~~~~~~~~~~~~~~~~~~~~~
kidsfunreviewed
I'm celebrating the new year by having a little contest. My last giveaway was in November, so I think it's time.
First prize will be a $20 gift certificate from one of my favorite party supply companies Oriental Trading Company, Inc..
Second prize will be a $10 gift certificate to Amazon.com.
The rules? click and enter----->>>>
kidsfunreviewed enter contest
~~~~~~~~~~~~~~~~~~~~~~~~~~~~~~~~~~~~~~~~~~~~~~~~~~~~~~~~~~~~~~~~~~~~~~~~~~~~~~~~~~
Mother Earth News Contest!
January Get This Garden Started Giveaway
by linette on January 3rd, 2008
I'm having a little contest to start out the new year. I'm going to give away three prizes. This is my first giveaway at Mother Earth's Garden so I'm really excited to see how it all works out.
So what am I giving away?
First prize will be a $20 gift certificate from my favorite seed company Seeds of Change.
Second prize will be a one year subscription to Birds & Blooms Magazine, another personal favorite of mine. (I reserve the right to change this to a gift certificate if someone outside the United States wins this prize)
Third prize will be a $10 Amazon.com gift certificate, so you can purchase your favorite gardening guide in time for planting season.
What are the rules?
The contest will run from now until the end of January, you can earn entries for commenting, or posting about the giveaway, details below. At the end of the month I'll draw 3 names. I'm borrowing some of my contest rules from Jennifer at Offbeat Homes (just tweaking them a little). She ran a contest in December and I really liked her rules, so lets see if I can remember some of them.
You will earn one entry for every comment you leave here at Mother Earth's Garden during the month of January, this can be on any January post. The comment must lend to the conversation, cannot be spammy and it is my final say on whether the comment counts.
You will earn 10 entries for blogging and...............
click and enter----------->>>
Mother Earth garden Contest!
~~~~~~~~~~~~~~~~~~~~~~~~~~~~~~~~~~~~~~~~~~~~~~~~~~~~~~~~~~~~~~~~~~~~~~~~~~~~~~~~~~~~~
Tangled and true--
TANGLED AND TRUE has contest going on each day !!Go by and enter daily and these are very nice prizes!!!!
~~~~~~~~~~~~~~~~~~~~~~~~~~~~~~~~~~~~~~~~~~~~~~~~~~~~~~~~~~~~~~~~~~~~~~~~~~~~~~~~~~