Good morning!
How many are going to watch the debate tonight? I hope you do.This is such a crucial time to be deciding our next president.He will have such a mess to fix i am afraid.I heard a comment last night on the news,said people were very leery of wall street.The financial guru whom was speaking ,said ''no fear''. the old wall street we had is no more!Is that a good thing?Off the top of my head i would say ...YES! It is sad that we came to point that wall street could almost destroy us from within(with help of course) with predictions.....wall street was looking like an auction house for slaughter,only it wasn't beef being led in,it is our jobs,money,gas and futures...sad,sad...
Today, the moose-hunting mom is the most talked-about woman in the world,That would be Sarah Palin.Great to see a ''LADY'' being talked about ..;) I personally like the lady.I think she DOES have the capabilities to run the white house if needed.There is something about her that reminds me of princess Diana.We didn't all know her to begin with ,BUT the whole world fell in love with her within 10 years and i think Mrs. Sarah has the capabilities to make us all fall in love with her as well.She has good morals and values.She may not be the best speaker we have ever heard or best debater,but God knows we have had our share of them already and look at the mess we are in.So on that note i think we need some GOOD people in the white house and then some GOOD CONGRESSMEN (or ladies) to back them up.You know i can't help but look at what they stand for more than what they want.And i am sorry,but anyone who stands up and says that abortion should be ever woman's choice,IS NOT WHITE HOUSE MATERIAL ANYMORE...Look at it this way...If our leaders can not TRY to protect an innocent child,who has known no wrong,HOW CAN I DEPEND ON THEM TO Help ME? you can't.I know i stir a can of beans...But i would like to note this before i end my rambling today,just something to think about.
+++When we all stand before our Lord one day(and we will believe it or not),and the blood cries out to God of the 5,000,000 + unborn babies we in America alone have allowed to be slaughtered in the name of abortion,He may ask..Did you try to save even one of these?What will you say??? EVEN ONE???+++
You may not be able to stand on street corners,may not even know much about abortion,you may say i don't agree with it but it is their choice.But you know what?If you willingly vote someone in to run our country who says it is OK...You have agreed with them,and allowed another baby to be killed..Someone's grandchild,sister,brother,aunt,uncle,cousin,son or daughter.Think about that when you go to vote.I had this decision to make ,and for a while it was not easy this year.The country is in such distress right now,i am republican mentally,but if i know a democrat would lead better and have the morals our forefathers did i would vote for them.There were several MEN who were ''vice president possibilities'' for McCain,that in no way could i vote for them.Had they been chosen i would have had to write in a candidate..That really tore at me.The thought that i would have no say in it,broke my heart.But ALAS...Someone took that position that none ,mostly anyway,saw coming!After checking her out,i now can vote ,have a say,and believe in my heart i have done the right thing. I have told my son over and over,GOD ALWAYS GIVES A GOOD CHOICE,makes it fair..And he has.In the form of a Baby toting Momma from Alaska..
McCain/Palin..
ALL THE WAY!
That's the way is see it amidst our depression of 2008!!!!!We need some hero's and amongst the ruin they usually rise...God Bless The USA ....
Betty~Simply Southern
~~~~~~~~~~~~~~~~~~~~~~~~~~~~~~~~~~~~~~~~~~~~~~~~~~~~~~~~~~~~~~~~~~~~~~~~~~~~~~~~
CONTEST'S AND GIVEAWAYS BELOW !!!!!!!!!!!!!!!!!!!
remember to rightclick and open in new window,,,for some reason i can not get the html to work right on blogger to open in new window..sorry....
~~~~~~~~~~~~~~~~~~~~~~~~~~~~~~~~~~~~~~~~~~~~~~~~~~~~~~~~~~~~~~~~~~~~~~~~~~~~~~~~~
lifeislikechampagneblog
The sense of smell is amazing. It can stir your senses, bring back memories of something as simple as a pie that your grandmother baked you for Thanksgiving when you were a child.
Are you ready to have your senses stirred and get a little energized?
Smokey Mountain Scents
has offered up the Pumpkin Spice Soap to one winner! Giveaway ends midnight 10/08/08 .See rules and enter
life is like champagne!
.
Good Luck!!!
===============================================================================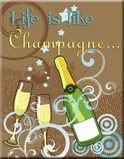 ===============================================================================
the post it place
they are giving away a full-size bottle of "Burst" to one lucky person.One of her tricks as far as making her house look and smell nice are products made by a local chemist. He has worked hard to make all of his products to be the best for your family as well as for your money. He has several different Air Fresheners available and she loves to use one called "Burst" during Christmas time. It has a cinnamon smell that makes your whole house smell like you have been baking for days..so click on her button above and enter!
the post it place
==============================================================================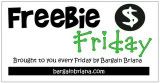 bargain briana
has a yummy contest running Now ! TWO WINNERS! she's giving away TWO Power up Packs from Del Monte. Which will include:
Del Monte Harvest Selection
Del Monte 100 calorie fruit cup
Pedometer
Magnetic grocery list pad
Ends Sunday, 10/5 around 11pm PST
bargain briana
=================================================================================
5 minutes for mom
has a contest for the photographer in us.
With $50 bucks – you can have some serious Shutterfly fun! We will announce the winner October 4th. Good Luck and Get Sharing!I am in,are you????
===============================================================================
One lucky winner will receive a Young Kid's Package with a total value of $82.95 that includes:
Kung Fu Panda Create-a-Story ($9.95)
Kung Fu Panda Fact Book ($9.95)
Kung Fu Panda Magnetic Storybook ($12.95)
Thomas and Friends: Special Delivery ($19.95)
Bob the Builder: Can Do Zoo ($19.95)
Friday, October 3
bloggy giveaways
==============================================================================
check out what you can win over at
7 dogs and a baby
a mini Owl Mama and an Owl Mama pin from The Needlings (enter by October 15th a Girl Gourmet Ice Cream Sandwich Maker enter by October 15th
3-6 month Preschool Musical tee from Uncommonly Cute (enter by October 15th alphabet children's bracelet from Ice.com October 15th
one of two Nerf Pro Grips (enter by October 15th at midnight),
one of two copies of the 101 Dalmations Live-Action DVD October 15th
one of three copies of The Love Guru on DVD (enter by October 15th at midnight), one of three copies of the Iron Man DVD
one of two copies of the 102 Dalmatians Live-Action DVD
a MyLife console (enter by October 15th
a cloth Swimmi diaper in a size medium by October 15th
an Icky Bag wet diaper storage bag from Petunias October 15th
and lots more!!!what are u waiting on?????????????
===============================================================================
the giveaway.com
blog has a giveaway running,your choice of an outfit from either a Bulldozer Outfit in 3T or a Paper Dolls Outfit in 3T
cocobonbond
..too cute..
they also have a Green Quartz Pendant Necklace from Multi Chic -enter by October 3rd and a custom Marguerite Handbag from Mimsi deadline is October 6th at midnight!!!
the giveaway.com click now
================================================================================
++++++++++++=i want to sooooooooooo win this!!!!!+++++++
has a couple reaaly cool and halloweenyyy giveaways now!(cool blog too...))
Giveaways and Features:
It's a Spider That Strolls Mutsy Spider Giveaway
TWO Balloon Time Create-A-Face Sticker Kit GIVEAWAY
ONE Halloween Glass Block from Design A Line
Win one of two copies of the Nightmare Before Christmas Movie GIVEAWAY
We are so excited for the new release of Tim Burton's The Nightmare Before Christmas : Collectors Edition 2-Disc DVD Plus 1-Disc Disneyfile. We have had such a great time watching this movie, now everyone can own this awesome Collectors Edition now on DVD!
Now digitally restored and remastered with state-of-the-art technology, ''Tim Burton's The Nightmare Before Christmas: Collector's Edition DVD'' set is deeper, darker and more brilliant than ever – as Tim Burton originally envisioned.
Now on DVD, it's also the first DVD from Disney to include Disneyfile – a downloadable digital file. Can Christmas be saved? Bored with the same old scare-and-scream routine, Jack Skellington, the Pumpkin King of Halloweentown, longs to spread the joy of Christmas. But his merry mission puts Santa in jeopardy and creates a nightmare for good little boys and girls everywhere!Win It!
they have two copies of Tim Burton's The Nightmare Before Christmas to give away
sister& sister
++++++++++++++++++++++++++++++++++++++++++++++++++++++++++++++++++++++++++++++++
Fight the flu $200 GIVEAWAY
The weather is turning cooler and soon we'll be spending more time indoors which means the spread of germs, colds, and the flu.We are kicking off the cold and flu season with a Fight The Flu Kit Giveaway. The kit is geared for moms on-the-go and is a portable arsenal filled with everything you need to keep your family healthy this cold & flu season.
The kit is valued at $200 and contains the following:
JP Lizzy diaper bag that has a removable liner to keep kids safe on public changing tables
A portable disinfectant spray
Hand sanitizer
Vitamin C
Digital thermometer
iPod Shuffle to encourage activity
Tips from pediatrician Dr. Jim Sears who is also the co-host of the new show The Doctors premiering this fall on CBS and his book "The Healthiest Kid in the Neighborhood"
lipstick to crayons flu contest
================================================================================
The Full Mommy blog
is up and running! Check out the new and improved Full Mommy! Many thanks to Leighann for her hard work on our new three-column layout, and to Mona for our beautiful banner.
To celebrate our upgrade, we're offering you a chance to win a wonderful gift at full mommy: A Flip Ultra Series "shoot and share" camcorder! Leighann, Mona, and I all have Flips and love them (check out reviews of the Mino and the Ultra). This camera is so easy to use, my five-year-old shot this hilarious ,click below to find out how you too can enter!...
The Full Mommy blog click now
=================================================================================
Guys this is a great site with all kinds of information..here is a quote from their site..
While BloggerNews.net is known to provide up to the minute information on a wide variety of topics, at times a more in-depth analysis of a topic that is being written about by our writers is warranted. This section of BNN provides just that – an area of the site that looks deeper into a topic, delves into the actual facts behind it, and provides more than just a summary overview of what is happening right here and now.
From something as mundane as an overview of how credit scores work, to life and death topics such as mesothelioma, we are committed to creating a growing library of information for our readers. Click below to review the topics covered so far, and check back soon as new ones are to be added regularly!
go check em out, and enter this cool contest as well...
(entry deadline is Monday October 6th) .30 Rock Season 2 Coming to DVD - Win a copy now! Click here to enter!
bloggernews
===================================================================================
=================================================================================