Good morning readers!Looking forward to the wekend? Be a kinda quiet one for me i think.Jeff is working days this weekend,so until after 9 pm,he is at work.Zack going over to his moms,boys are at their mom's,so i think i may have a ''me '' weekend..;)
I said maybe,it isn't here yet.lol.I still have not gotten over this ''flu''.3 weeks now!ARRGGG..Seems like everything is getting harder and harder to shake off.I am enjoying getting older for the most part,but health issues want to bum me out sometimes.I am checking into some natural herbs to detoxify.Any of you doing this?If so i would like to hear how this has /or has not helped you and any ideas....
Got you a tip on recycling!!!!
You're probably throwing away a source of all the little dishwashing scrubbies you'd ever need. Heather Solos of
home-ec101
suggests today's tip: Rescue the netted plastic bags which usually hold the onions you bring home from the store. Remove the metal staple (and maybe add a rubber band to hold it all together), and you're set. Since the bags aren't marked for recycling, you've kept a bit of plastic out of the landfill — and saved money, too.
BETTY r~Simply Southern
Hunting Paradise in God ,GrandKids,Fireflys and Whipporwills!
ps...do you belong to twitter?If not sign up here.it is simple and quick and lots of fun.(by the way you can use it to enter contest for extra entries and see when a new one is posted! my user name is southernways..follow me,i'll follow u back.!)
twitter.com
+++++++++++++++++++++++++++++++++++
sandierpastures
WHAT'S UP FOR GRABS:
One lucky winner will receive a cute set of deer doilies (10 pcs/set) and deer tags from
dallasshaw's
Etsy shop. ends jan 16th
+++++++++++++++++++++++++++++++++
couponprincessgoesblogging
Fast Fixin giveaway 5 winners!
+++++++++++++++++++++++++++++++++++
sandierpastures
win 1 shirt from Resist Today - ends January 13, 2009
+++++++++++++++++++++++++++++++++
momfuse
Just take a look at the contest going on right now!hurry and enter!
Kids Lunch Box Cards & Bonus Giveaway(ends jan 15th~
Slimpressions Shapewear & Bonus Giveaway!
Tumbalina Every Day Gift Card Tin Giveaway!
dont forgt this coming up as well!
+++++++++++++++++++++++++++++++++++
nursemommy07
has a contest now from
Edible Baby!
They offer clothes either in traditional cotton or in organic cotton! Edible Baby is such a cute idea and really offer cute, unique baby items and bigger kid items too! These are just too cute! ends 1-16
nursemommy07
Fly High Joy would like to offer one of my lucky readers an adult shirt of their choice. Please head on over to their site and tell me which shirt
++++++++++++++++++++++++++++++++++
Tara Burner-giveaway enter here
win Glimpse Skin Care!this is great..This week a 4 piece skin care kit is being given away, compliments of Joanne Ott.
Visit http://discoverglimpseskincare.com/ to see the products you're going to be entered to win.
This 4 product kit has a retail value of $200 and includes cleaner, toner, serum and moisturizer. The company boasts that it's Introducing The World's First Performance Based, 100% Clean & Green Topical Skin Nutrition Line.
The kit that is being given away is for dry to normal skin; however,they also have products for normal to combination to oily.
100% safe and toxic free, good for all skin types and ages.
This is the first to market product using mangosteen infused oil, and a patent pending BioActive3 Complex, which is a natural anti-inflammatory, is anti-aging and a natural antioxidant.
For best use we recommend all four products be used daily.
The kits contain all four, however individual products will be available for sale later this month.
++++++++++++++++++++++++++++++++++++
everything up close-(enter here)
has a lawers clothing giveaway!One winner will receive a $25 gift certificate for Layers Clothing.
Layers Clothing is a fun clothing company that strives to make comfortable, fashionable yet modest clothing at reasonable prices. Most of the clothing sold by Layers Clothing is very versatile and can be mixed, matched, and layered with a wide variety of different pieces. "Layer's style is humble but edgy, sweet but sassy." Layers Clothing's current Winter 2008 Collections possesses many dresses, long and short sleeved shirts, cardigans, and skirts. In addition to their Winter collection, you can also find several basic pieces, which are sold year round.
+++++++++++++++++++++++++++++++++++++++++++++
everythingupclose-enter jewelry giveaway here
Natural Beauty Jewelry is a stunning online jewelry store that sells jewelry that could easily be mistaken as pieces of art. Bethany Piermantier (owner of Natural Beauty Jewelry) started her store when she decided to combine her passion for working with her hands and her love of gemstones, beautiful items, and jewelry design. Natural Beauty Jewelry features a lovely variety of bracelets, earrings, and necklaces made from silver, gemstones, or both.The winner of this giveaway will receive a beautiful Amethyst, Peridot and Citrine Lariat Necklace from Natural Beauty Jewelry
++++++++++++++++++++++++++++++++++++++++
Babyluxe
Welcome to our first GIVEAWAY of 2009!GIVEAWAY: $75 gift certificate to use at Babies Showers By Mail to one lucky winner!
This one is a good one for all those baby showers that are piling up on your calendar already. In my neck of the woods, 2009 sure seems like one massive baby havin' year! Make gift shopping for the new baby and new mama easy with Babies Showers By Mail!
+++++++++++++++++++++++++++++++++++++++++
Sevendogsandababy
has have five copies of American Teen to give away to her readers!
while you are there also ENTER TO WIN THESE!!!
1>she has three copies of Beethoven's Big Break to give away to her readers!
2>three copies of Eagle Eye to give away jan 30
3>one copy of Kung Fu Panda : Legendary Warriors for the DS (ends jan 30(
4>copy of Bratz Kidz to give away for the DS!jan 30
5>three copies of Ghost Town to give away to my readers.jan 30
6>AND MORE!GO SEE!
+++++++++++++++++++++++++++++++++++++++++++++++
The Funky Monkey
Hoohobbers is offering one lucky reader a Moses Basket! You get to choose your fabric style too! These are sooooooooo cute!!!HURRY.

WHILE YOU ARE THERE CHECK OUT THESE CONTEST TOO!
1>KP Creations is offering TWO lucky winners a pair of your choice OF SOCKS from their Etsy shop
2>SAFE SIPPY CUP GIVEAWAY
3>Casbah Kitten is offering TWO lucky readers 1 CAT toy each! You choose!
4.own an Izzy On the Go Bag in their fabulous monkey print, a matching blanket and bib? Lucky you...here's your chance!
5 < All Star Buddies would like to offer TWO lucky readers a Set of 7 All Star Buddies Plush Toys!
+++++++++++++++++++++++++++++++++++++
littlewindowshoppe-giveaway-click here
Win It: Dress-up Drawer Superhero Cape .This giveaway ends on Thursday, January 15th
One lucky Window Shoppe Reader will win your own custom-made superhero cape!
+++++++++++++++++++++++++++++++++++++++++
twoofakindworkingonafullhouse
has a super contest going on now!
win a
popatot
! These are great for the little ones!contest ends jan 31st!
++++++++++++++++++++++++++++++++++++++++++
++++++
twoofakindworkingonafullhouse
win a
slanket
!!!!contest ends feb 1st!
twoofakindworkingonafullhouse
WIN IT
A
Passion For Pendants
by HotWyre Jewelry is giving one of my readers their own Custom Photo Pendant!!!!ends jan 31st!
+++++++++++++++++++++++++++
thenotsoblog.blogspot-click to win here!
is on bday bash -day 3!
First, Photogreetings has generously donated a customized birthday invitation design (any gender or age) for your child! Her designs are adorable!
Second, Blackbird Letterpress has donated this awesome Sweet Cake Birthday Flag to spruce up your party decorations!
And finally, what party is complete without a PINATA?!?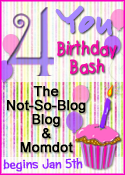 +++++++++++++++++++++++++
funky monkey!snack contest
ends jan 10th!!
Want to try some of Snacktrition's healthy products? Now you can! Snacktrition is giving away 5 bags of each of their products to one lucky reader.
======
while u are there,enter this one too!
funky monkey-star kids giveaway!
Here is your chance to win a Snack & Play Travel Tray of your own!
=========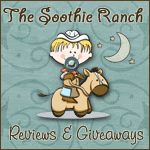 Marina at Baby Boomba has generously offered our readers the chance to win a Button Style Chocolate Organic Hideout! How can you win?
The Soothie Ranch=click here!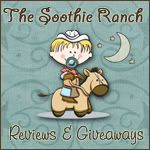 ===========================
The soothie ranch-win a poncho!
=============================
Win:
beleaf
has generously donated a Galaxy (blue) Bath tee, size 6 (ARV $29) for one lucky winner at sage and savvy!ends jan 10
+++++++++++++++++++++++++++
">mommainflipflops2 she has 1 New Native Baby Organic Cotton Baby Carrier to give to One Momma In Flip Flops2 reader. This is a size medium in the zebra twill. ends jan 14th!
++++++++++++++++++++++++++++
savinsome
win corel painter 4!!!!! i sooooooooo want this!
+++++++++++++++
++++++++++++++++++++++++++++++++++++++++++++